I'm girlie. Therefore, I like girlie things. And you just can't get too much more girlie than make-up. Am I right or Am I right? I'm right. Back in the olden days (i.e. before popping out a mini-me who seems to suck my disposable income bucket dry on a regular basis) when I had more money than I knew what to do with, I would peruse the counters of the department stores looking for new (and expensive) face products to wrap up, take home, and add to my collection. I've always been somewhat obsessed when it came to the make-up arena. Even before I was old enough to have a regular (or even part-time) job, I had a massive make-up collection. Ask my mom. . .at one time it involved a very large purple Caboodles (yeah, remember those?!). . .that doubled as a suitcase. No joke!

Mine looked similar to this. That sonofagun was HUGE!
Now that I'm older, and more mature less financially able to spend hundreds of dollars at the makeup counter each month, I'm always looking for ways to continue being able to get my fix while not bleeding my budget dry. You must understand, makeup might technically fall into the "wants" category when it comes to deciding what is a want vs. a need but it's not. It is clearly a "need" for me. Actually, it is a "need" for everyone that I continue to wear makeup. Because without it, well. . .that would be a devastating blow to humanity. You don't want to see me without makeup on. It's simply not okay. We're talking life and death here, peeps. Okay, maybe not totally life and death. But it would sure feel like death if I didn't have my makeup. At least, I would look like death without my makeup!
Anywhooooos. . . if you're makeup mad like me, there is a thrifty way that you can continue to keep your face fresh and fabulous while keeping your wallet fat and happy! So far, I've found that the key is knowing what areas you need to spend a little and what areas you should save a little.
Foundation: This is an area where I would recommend that you splurge a little bit. Maybe not department store type splurging (although, foundation is so important, that I wouldn't blame you if you did!) but you at least want to make sure that you have a good foundation that's the right shade for your skintone and the right formula for your skin type. If there was only one item that I could spend a little more on than the rest of my makeup, foundation would be it. For me, I use Cover Girl Nature Luxe. I actually received a sample of this during a product test that I was doing for
BzzAgent
and I LOVED it!! It's soft and smooth while still giving me great coverage. I typically wait to buy it when I have coupons for it but without a coupon it's still only about $12. Not dirt cheap, but not too bad, either.
Mascara: In my opinion, there is only one mascara that anyone should ever use. And it's a total throwback to the eighties. Yeah, I went there. The neon pink and green tube is a dead giveaway but after trying what seems like every mascara under the sun, I keep coming back to this stuff. Three little words: Maybelline Great Lash. It's like crack to a crackhead. . .life altering. It seriously works better than anything I've ever seen before and at less than $5, I'm a serious lifer!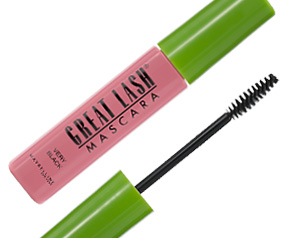 Bronzer: If you are a pale gal like me, bronzer is a year round addition to your makeup bag. I've tried a number of different bronzers and there is one that I totally love. Physicians Formula makes a great bronzer in a few different shades that work for almost any skin type/tone. While it's not really on the totally cheap side (I think it's like $9 or so for the bronzer), it does last quite a long time. I think the last time I bought a new bronzer was at least 4 or 5 months ago. When it's something that I use every day and it lasts that long, that's not such a bad price.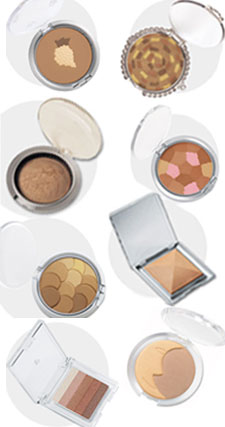 Everything Else: Pretty much everything else that I use would fall into the "get it as cheaply as possible" category. Eye shadow, eye liner, blush, lip liner, and lipgloss, etc. When I have coupons that make things super duper cheap, I might buy the "brand names" (like Maybelline, Cover Girl, Revlon, Almay, etc) but when I don't have any coupons, I still have one very excellent, very cheap trick up my sleeve: e.l.f. If you haven't heard of e.l.f. cosmetics, let me pull you over to the dark side with me. This line of makeup is extremely affordable and widely available. You an order online at
e.l.f.'s website
or you can buy it in select stores. I buy mine at Target but I think you can also pick it up at some drugstores and maybe even WalMart. Every product is between $1-$3. I mean, aside from being totally free, you can't get much more affordable than that. I am a huge huge fan of this brand. You would think that with the items being so inexpensive that the makeup quality would be kind of. . .well. . .ahem. . .subpar? But it's totally not! They have SO many different cool products and some of them, I love more than anything I've ever tried before. Like their liquid eyeliner. . .it is SO easy to use and I love, love, love it! I have been so pleased with every product from the e.l.f. line that I've bought. In fact, the entire makeup bag that I have down at my mom's beach house is nothing but this makeup in it. If you haven't tried it out, I strongly encourage you to do so and let me know what you think!
So there you have it, all of my makeup secrets! This is how I get "Ooh La La" without spending too much off my Moola-la!